The compact, cost-effective LED solution for your street lighting projects
Description
VOLTANA EVO is the ultimate compact solution that delivers the right lighting to your urban spaces and guarantees fast payback. This luminaire is the right tool for lighting your streets and squares efficiently while considerably reducing energy costs.
Suitable for all kinds of urban spaces, the VOLTANA EVO outdoor luminaire is low-weight, easy to install, and designed for side-entry and post-top mounting. It is easily adjustable on-site thanks to an incorporated stepped inclination system that optimises the photometric orientation.
With its compact design and lighting technology, the VOLTANA EVO luminaire is a sustainable, cost-effective solution that guarantees basic urban lighting needs, generates energy savings, and reduces the ecological footprint.
Reduce your ecological footprint
A new generation of the VOLTANA range, the VOLTANA EVO luminaire follows the same sustainable philosophy: recyclable components, a compact design that uses fewer raw materials, and maximised maintenance and energy savings. Furthermore, the VOLTANA EVO's compact design allows easy installation and is maintenance-friendly. This indirectly contributes to lowering the impact of the equipment and workload around it.
Save time on installation
The VOLTANA EVO enables easy and fast installation with side-entry or post mounting on virtually any type of pole or bracket. As it can be supplied pre-wired, VOLTANA EVO minimises the time spent on cabling. For maximised photometrical performance, this outdoor luminaire can be adjusted on-site with an incorporated stepped inclination system.
With the VOLTANA EVO luminaire, lightness doesn't mean inefficiency. This street luminaire is equipped with Schréder ProFlexTM photometric engines, which increase performance by reducing the number of reflections inside the optical unit. VOLTANA EVO provides the right optimised lumen package for your street lighting needs.
The lenses are directly integrated into a polycarbonate protector, which provides high impact resistance.
Built with fewer yet more advanced materials, VOLTANA EVO is the ideal tool for guaranteeing the fastest return on investment. This street luminaire combines a compact design with innovative photometric technology to create a cost-effective, efficient LED solution for your urban lighting projects.
The ideal tool to light your urban spaces
The VOLTANA EVO LED outdoor luminaire has been designed to meet your urban lighting needs. Its photometric technology increases safety for motorists, pedestrians, and cyclists by enhancing visibility and contrast in your urban streets and spaces while maximising energy savings.
Its compact design subtly blends into your city streets while its photometric engines deliver the perfect lighting, adapted to the exact needs of the space
Create nice, safe city centers where people want to live with VOLTANA EVO.
Characteristics
General Information
Recommended installation height (m)
Compliance
Electrical information
Electrical class
Nominal voltage
Control option(s)
Performance
Luminaire output flux (lm)
Luminaire efficacy - up to (lm/W)
Optical information
LED colour temperature
Colour rendering index (CRI)
Housing and finish
Optic
Protector
Polycarbonate (with integrated lenses)
Standard colour
Tightness level
Impact resistance
Lifetime
All configurations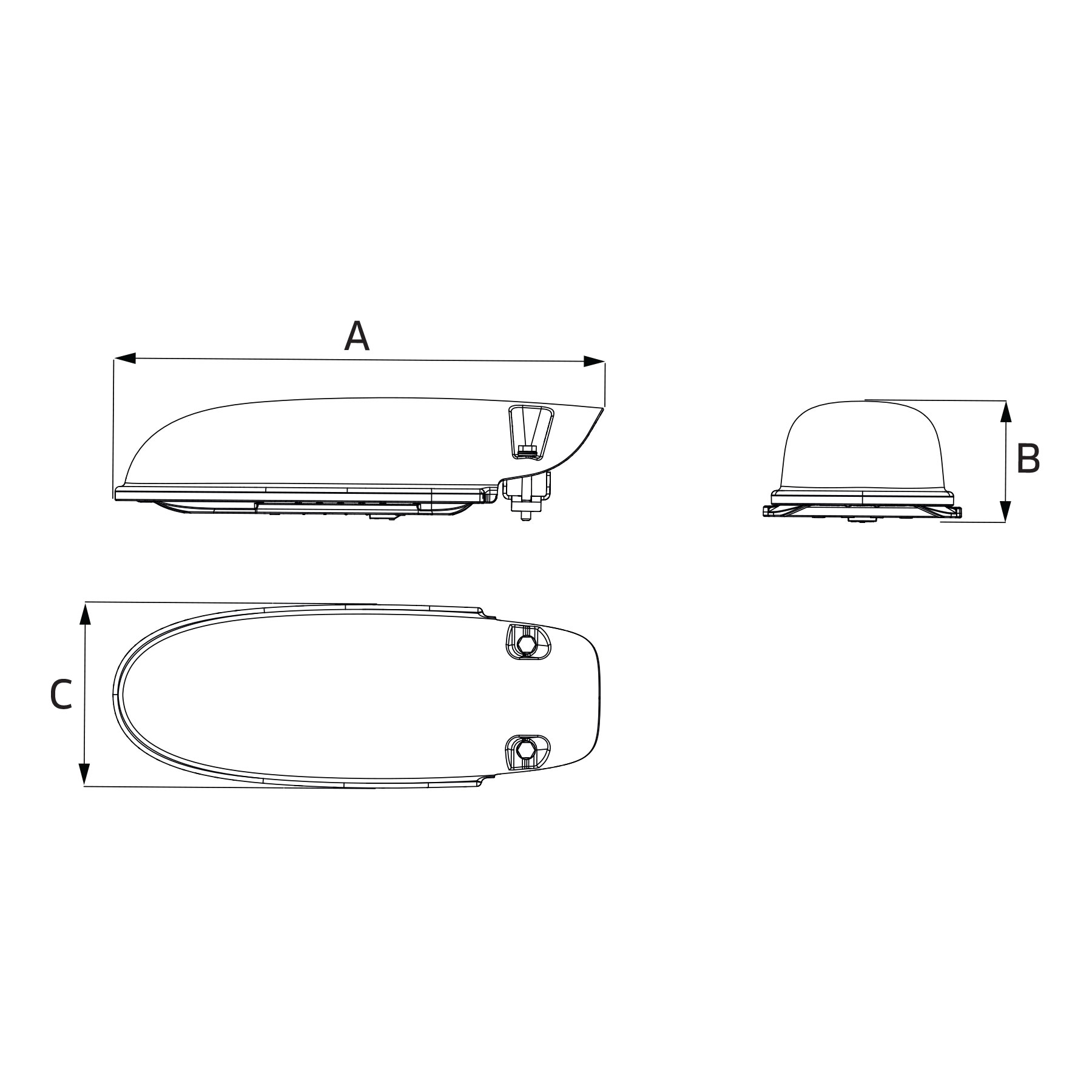 Dimensions and mounting
AxBxC (mm | inch)
416x104x170 | 16.4x4.1x6.7
Mounting possibilities
Side-entry slip-over – Ø42mm
Side-entry slip-over – Ø60mm
Side-entry slip-over – Ø76mm
Control systems
Control options for VOLTANA EVO
The VOLTANA EVO LED outdoor luminaire has the following dimming/control options:
• Custom dimming profile
• DALI
• 1-10V
Installation and Maintenance
Standard side-entry mounting
VOLTANA EVO offers side-entry clamp fixation for Ø42-60mm spigots. The luminaire can be adjusted on-site thanks to an incorporated stepped inclination system.
Optional adapter for both post-top and side-entry mounting
As an option, the VOLTANA EVO luminaire can be delivered with an adapter piece suitable for both post-top and side-entry mounting on various spigots (Ø42-60mm or Ø76mm). Thanks to an incorporated stepped inclination system, the luminaire can be adjusted on-site in 5° steps.